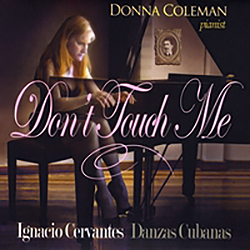 September 2010
Donna Coleman is an Australian pianist and scholar of American origin who has, as the liner notes to this new CD describe, been engaged for years on a quest to understand how the late-nineteenth century "produced the extraordinary Charles Ives and his ragtime-infused works". Her previous recordings have been of Ives' own music, ragtime by Scott Joplin and his Harlem contemporaries, and other ragtime-related repertoire. On this latest CD however, Coleman reaches back to the later nineteenth century, and the music of the neglected but fascinating Ignacio Cervantes. My own interest in Cervantes stretches back to the early 1960s, when I first stumbled on a couple of his Danzas Cubanas (los Tres Golpes and Invitacion, as I now know them to be called), and I have been on the lookout for Cervantes recordings ever since. Even so, all that I knew of his life was that he was a protegé of Louis Moreau Gottschalk, the travelling virtuoso of the tropics; I am amazed to have discovered from the detailed and scholarly liner notes to Coleman's CD that he studied in Paris under, of all people, Charles Valentin Alkan. Cervantes was a friend of Gounod and Rossini, and acquainted with Liszt, while developing a reputation as the accompanist of choice for Parisian bel canto singers. In her notes Coleman describes Cervantes's fondness for, and affinity with Chopin's music, which began during his Paris sojourn. Later in life, having returned to Cuba, he became associated with the Cuban independence movement, and found it necessary to exile himself to New York, and later Mexico. Finally, when Cuba achieved independence he acted as an ambassador for Cuban music, dying in 1905.
Coleman believes that these Cuban Dances, with their characteristic Caribbean cinquillo ("de-dum-de-dum-dum" say the liner notes) rhythms were a major influence on the early ragtime composers, and, given that Cervantes earned his living as a concert pianist while exiled in New York City in the 1890s this is a tenable thesis. It is astonishing to think that Alkan's influence may have stretched via Cervantes to Joplin. Cervantes' own music heard here is concise—few of the Dances are more than ninety seconds long—and his works incorporate the elegant French influence of his tutors, African rhythms in the form of gentle syncopation, and the original Cuban flavour of his predecessor Manuel Saumell's contradanzas. The result is one of the most charming musics I have ever had the good luck to encounter. I would not be surprised if Federico Mompou's similarly charming Cancos y Danças had been influenced by his having heard Cervantes' music in Paris.
Coleman's performances are utterly without pretension, direct, subtle, and comprehensively musical. I tried comparing her recording with previous versions, one by Rubén Pelaez on the Élan label (CD82274), and another by Juana Zayas on Music & Arts (CD1069), and was interested to note that the performance order is entirely different on each disc, and that even the number of Dances varies—Coleman addresses this issue of texts and sources in some detail in her notes. Fine though these other recordings are, Coleman's scrupulous scholarship and meticulous pianism make this new release the definitive recording of these incomparable works. One other CD deserves mention however: the Cuban pianist Georges Rabol made probably the very first CD recording of a selection of the Danzas Cubanas in 1990, and his disc includes a few of the Saumell Contradanzas, and a handful of Gottschalk's own pieces, making a contextualisation of Cervantes' music possible. It is well worth hearing as a footnote to Donna Coleman's lovely CD. Cervantes went on to write operas and even a Symphony. Hopefully the day will come when we can hear his music on these grander scales.
Don't Touch Me OutBach® CN001